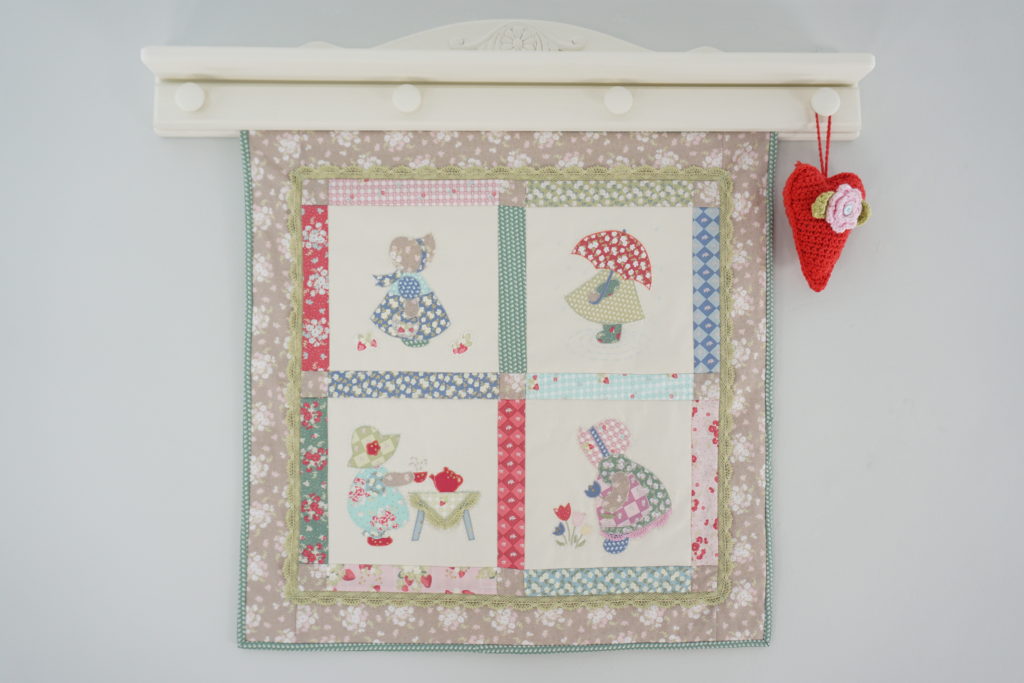 After a year of being too tired or too busy to do much sewing, I'm so happy to be stitching again! This project had been percolating in the back of my mind since last winter. My friend Jera of Quilting in the Rain shared with me a few images of her upcoming fabric collection just a few weeks before my daughter Susie was born last February. Susie is named after her great-great-grandmother who I never had the opportunity to meet, but who appliqued these Sunbonnet Sue blocks for me well before I was born.
I felt the need to make a few Sunbonnet Sue's of my own and Jera's "La Conner" fabric was perfect for the job. I'll be honest and admit that I did not know where La Conner was until learning about it from Jera; so my impression of the town is from her photos and descriptions. It looks like such a charming place and I'm looking forward to visiting sometime soon with my mom and Susie. I imagine we'll start the day visiting tulip fields and dodging mud puddles, or maybe picking fresh strawberries. Then we'll enjoy some hot tea at "Ruby Sue's Tea & Treasures." (Which will be perfectly fitting, since Ruby was my grandma's name.) We'll round off the day at the "Pacific Northwest Quilt & Fiber Arts Museum" before heading home.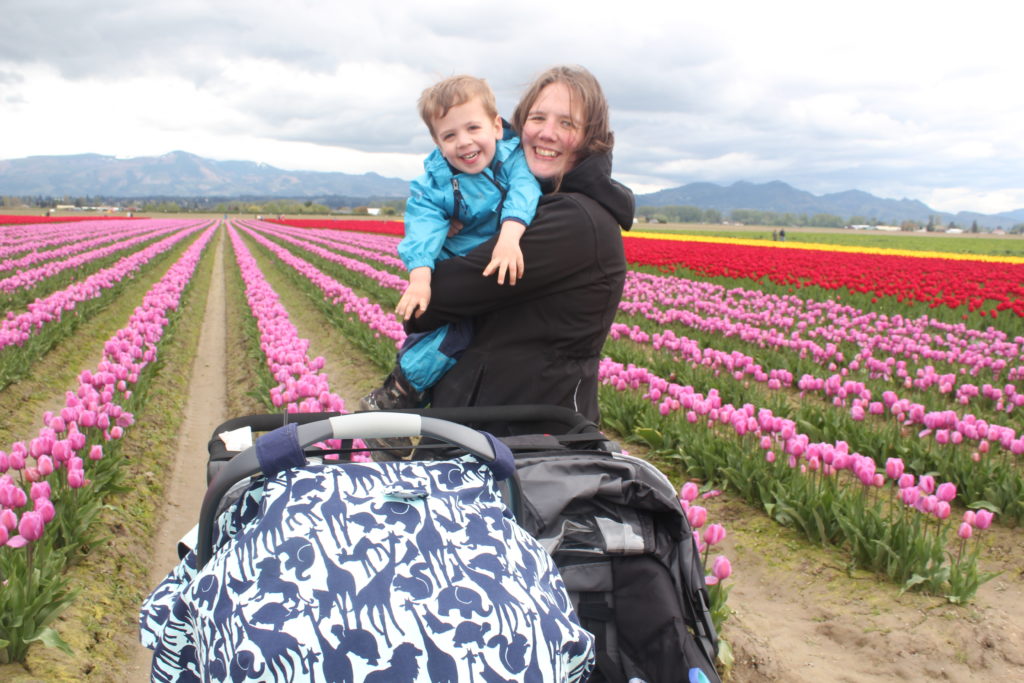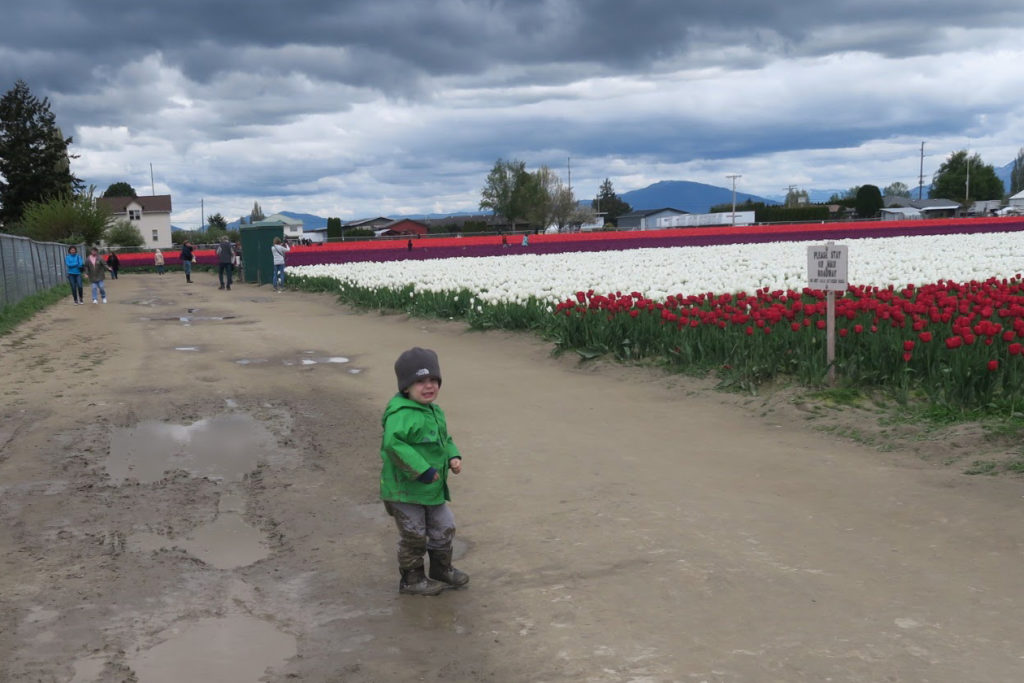 For my Sunbonnet Sue's I used "The Ultimate Sunbonnet Sue Collection" published by Leisure Arts. It has 24 Sue's doing everything from jumping rope to picking flowers. I chose 4 designs that fit best with the themes of the "La Conner" fabric.
To assemble the wall hanging I used the pattern for the "Baby Sue Quilt" but with four Sue blocks instead of six. I machine appliqued the blocks then added hand embroidery. The book shows pictures of the blocks with lace embellishments but offers no instructions on how to do it. So I fudged my way through and ended up having to add a few drops of fabric glue in places to keep the lace from unraveling.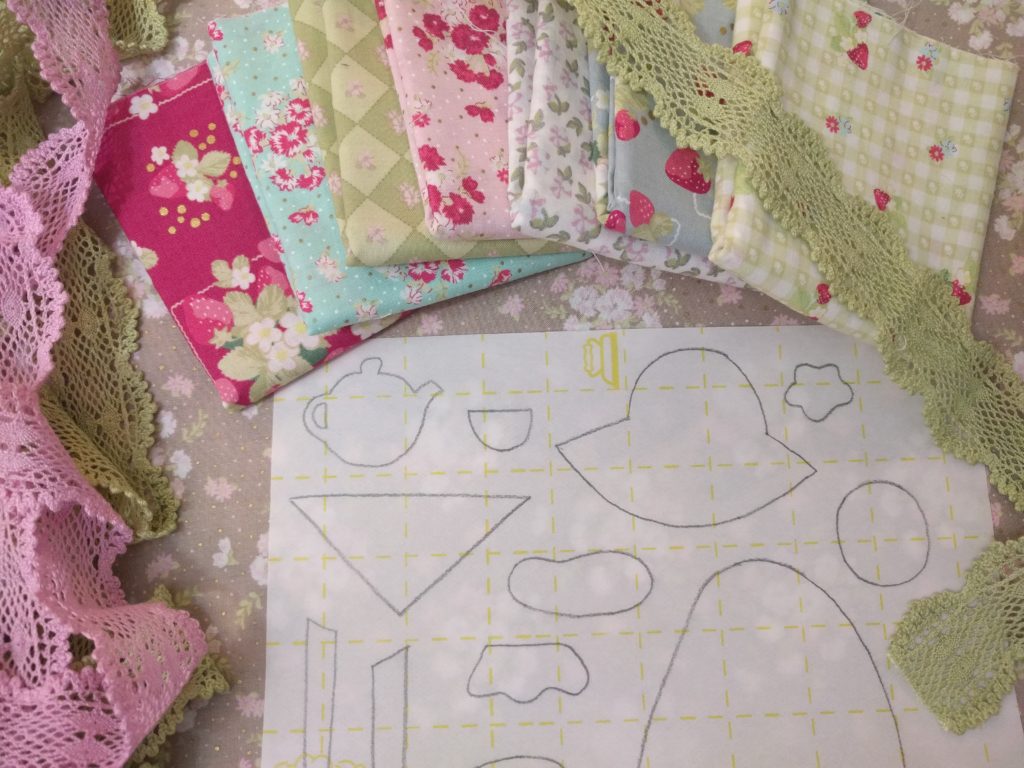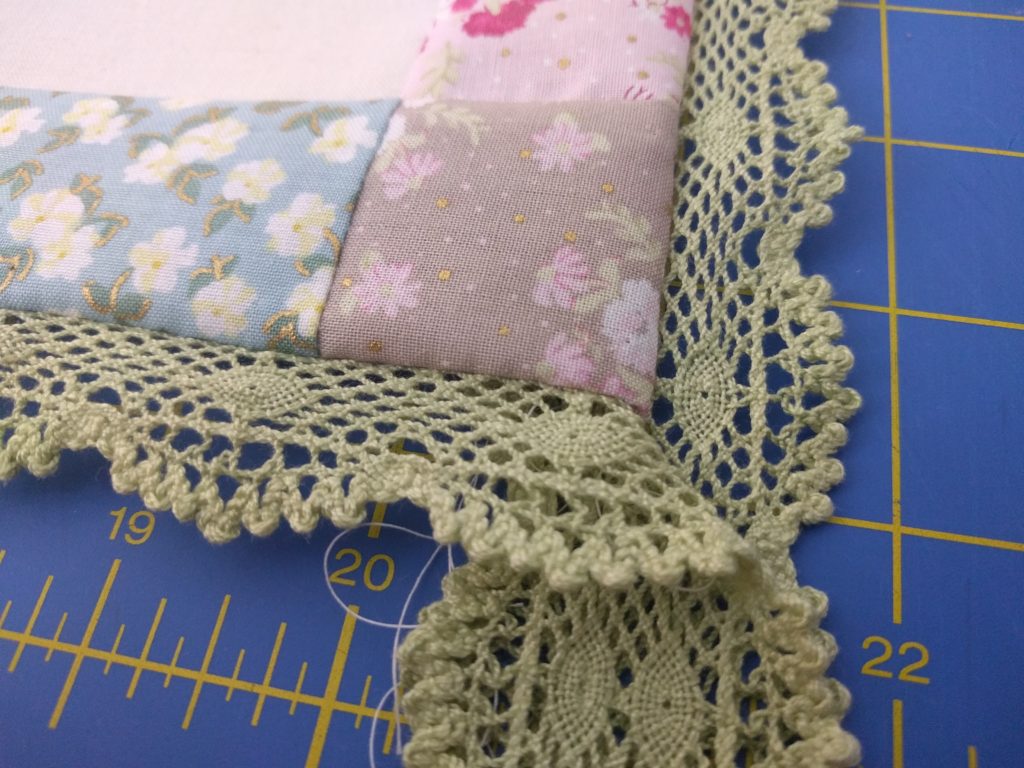 I fared better with the lace on the borders. I treated them like I was adding a y-seam, leaving the adjacent pieces unattached until after the fabric border was added. Then I folded one lace piece under the other and sewed it down, trimming only after it was secure.
After I finished the four blocks, I had an urge to make more and complete the actual baby quilt pattern. I ignored that urge and choose to just get my original wall hanging idea done. I'm happy with that choice, since the baby quilt pattern in the book would have been a bit on the small side; and I don't really trust my lace to stand up to being washed. A twelve block toddler quilt might be a fun project though, with a block for each month. And maybe I'll pick up Jera's new book, "Quilt As You Go Made Vintage", and use her method to assemble them. 🙂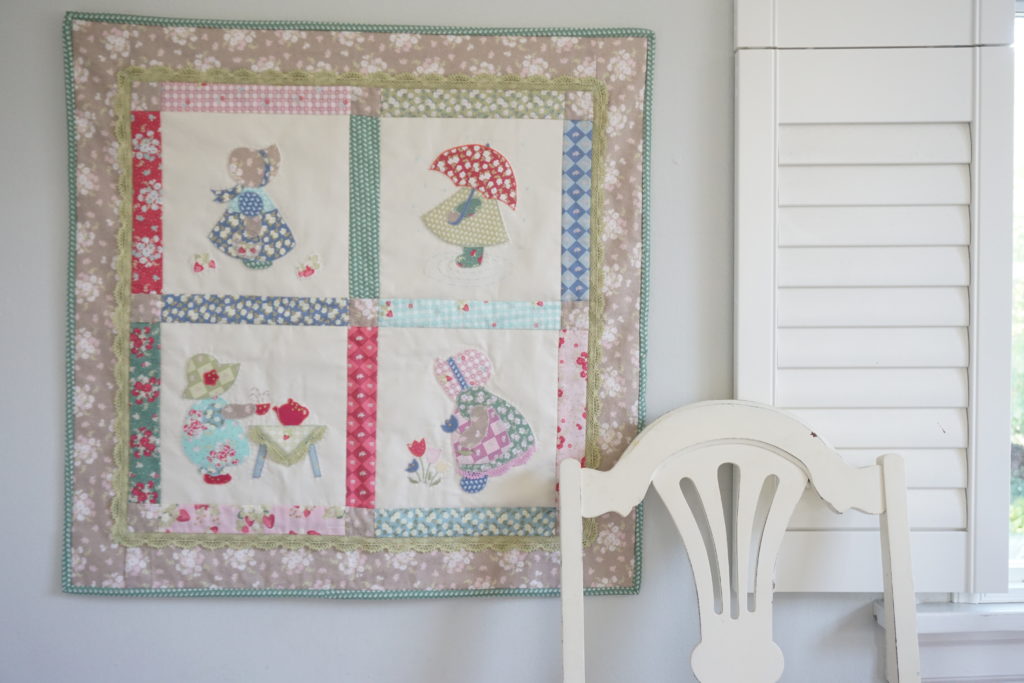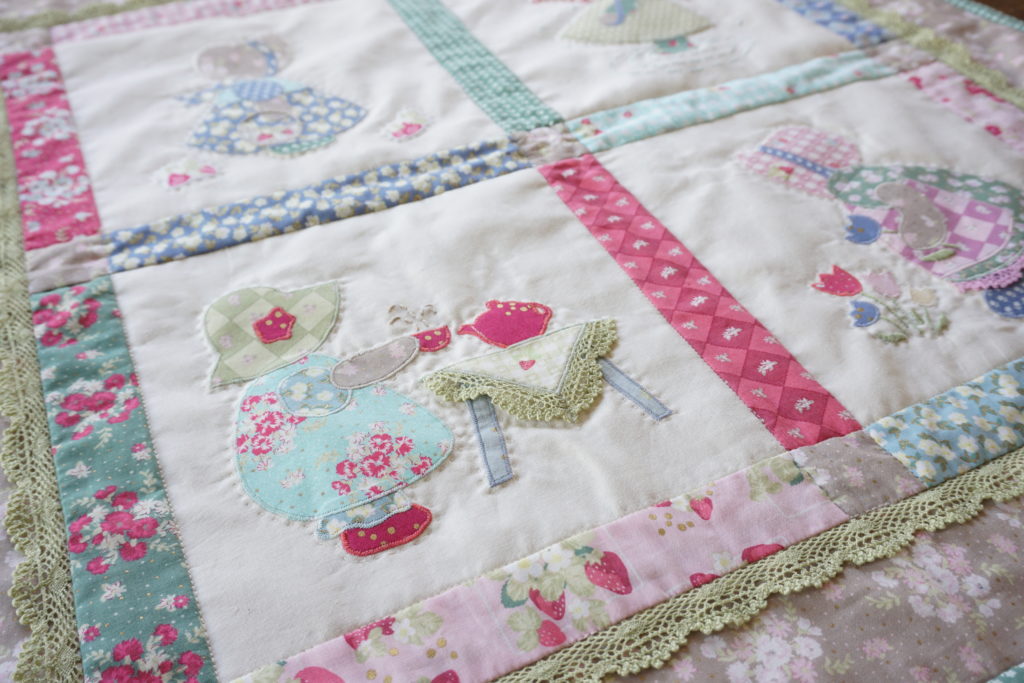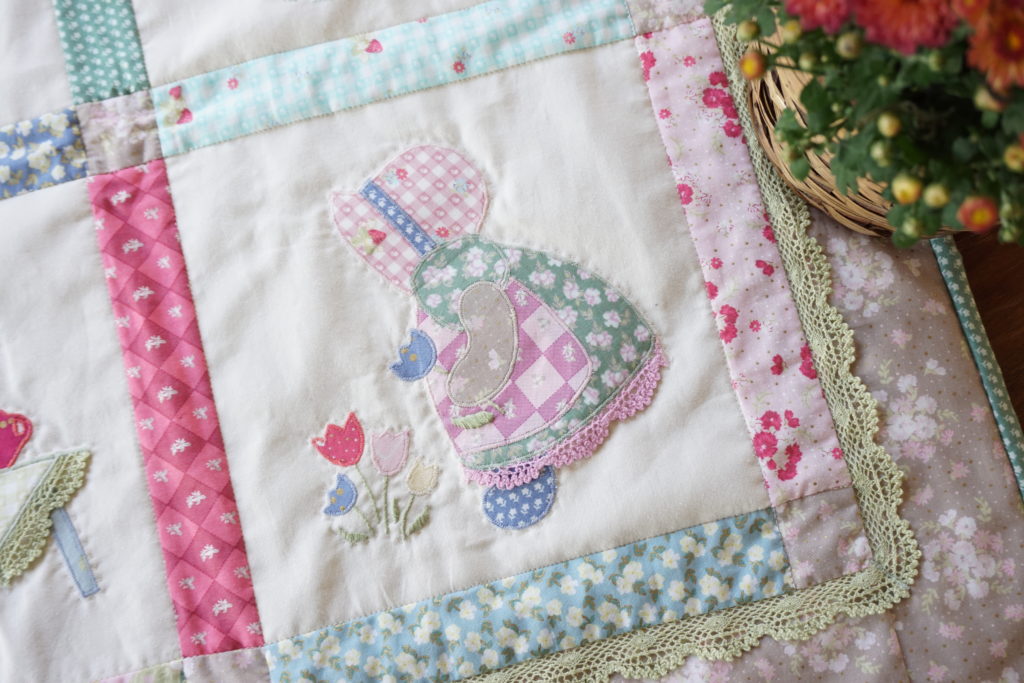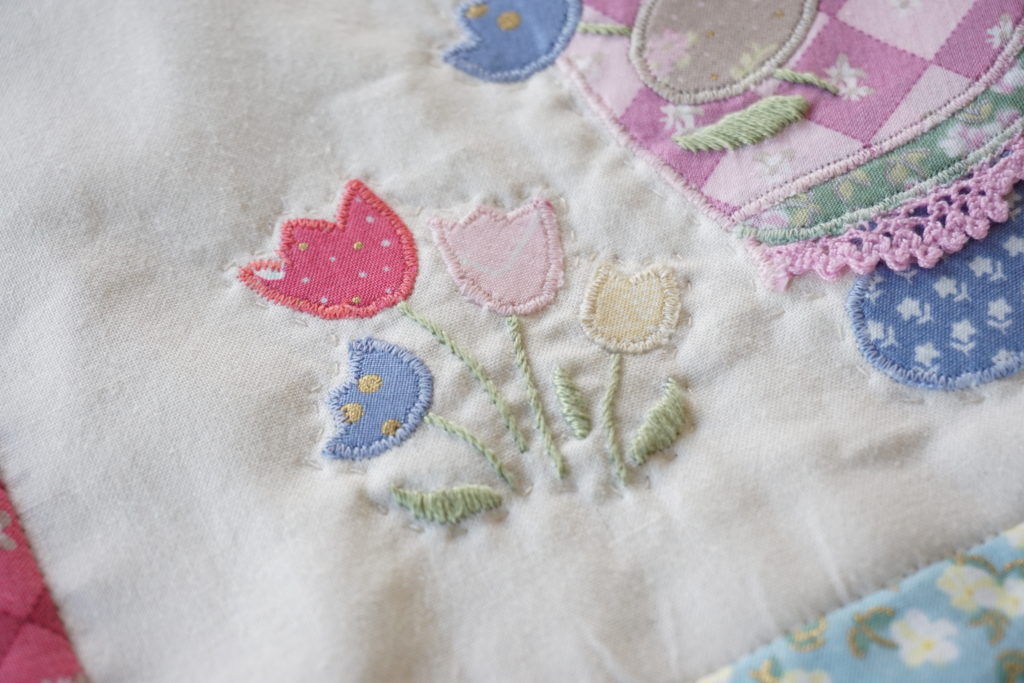 Thanks Jera, for the beautiful fabric and for continuing to inspire me with all of your artistic endeavours!